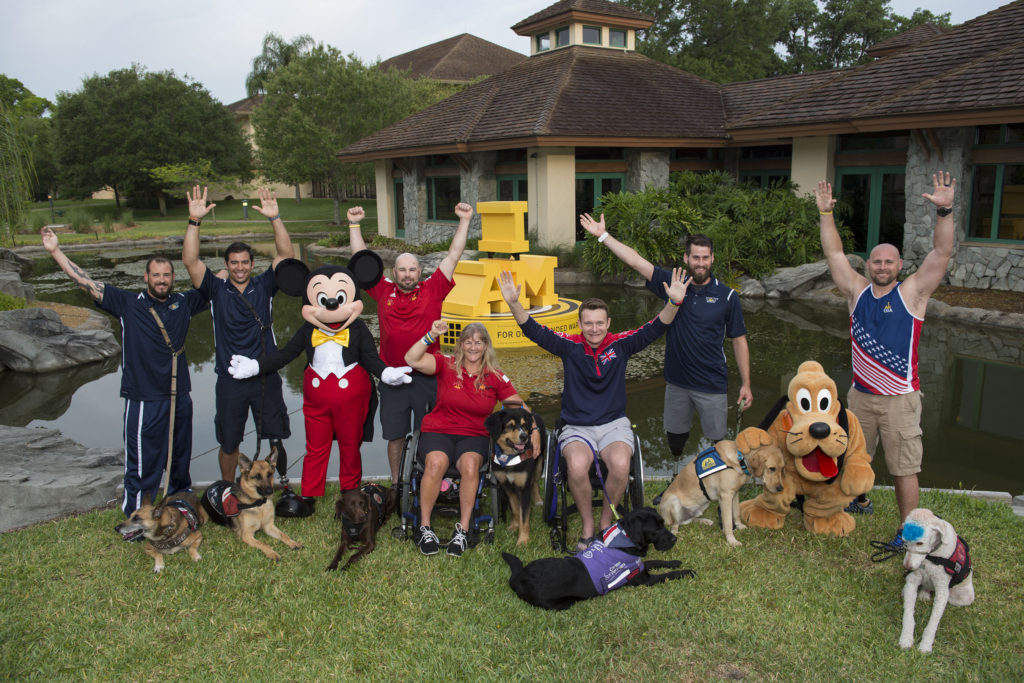 ---
Florida's Best Known Dog Bids Farewell to Invictus Games 2016 Competitors and Their Service Dogs
Throughout the four days of competition at the Invictus Games Orlando 2016, several countries' teams have brought home gold, but the human-dog teams have been a crowd-favorite. Before returning to their respective countries tomorrow, competitors, their service dogs and Disney's Pluto the Pup gathered at the competitor village. Below please find a spotlight on a few competitors and their relationship with their canine companions.
August O'Niell and Kai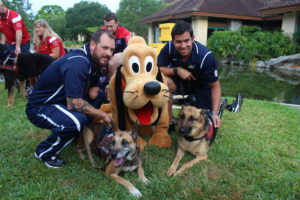 August O'Niell (pictured right), a U.S. Air Force staff sergeant, suffered severe injuries to his left leg when insurgents attacked his helicopter during a pararescue mission in Afghanistan. While undergoing a long series of surgeries on his leg, which would later be amputated, O'Niell battled depression and found out that a service dog could help.
Thanks to his German Shepherd Kai, O'Neill has regained his strength and has been recommissioned to one of the toughest jobs in the military. Kai not only offers companionship but also helps O'Neill with much-needed day-to-day tasks: "Mentally it is great to have Kai with me all of the time. He also does blocking so he usually stands between myself and other people to keep people out of my personal space. He braces me so if I'm standing for long periods of time, he will lean into my legs. If [my leg] is fatigued it gives me a little more support."
During the Opening Ceremony, O'Niell delivered the Invictus Games flag to the stadium by descending out of a helicopter. When he landed on a nearby field, Kai ran to his side. O'Niell reflected on the moving moment: "It was super emotional for me to have Kai come run out to me at the Opening Ceremony. It was amazing. He is my best friend."
Brett Parks and Freedom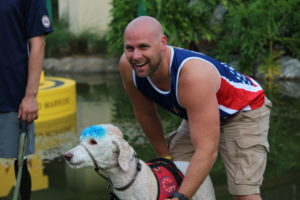 Brett Parks, a retired U.S. Navy air crewman who lost his lower right leg as a result of being shot while attempting to break up a robbery, leans on his service dog Freedom to help cope with post-traumatic stress. Park spoke about the unexpected ways Freedom has helped with his recovery: "I end up concentrating on him rather than concentrating on my surroundings. It helps me because I know I'm responsible for him. It isn't all about me."
Freedom, a red, white and blue Mohawk-sporting standard poodle helps Parks maintain his independence: "Day to day, he helps me pick things up if I drop them. If my leg is off and I fall, he actually helps me up. He is also here for a little bit of PTSD so if I'm out of town and all alone he is there with me and makes me feel a little better," said Parks.