I AM – Coach Gumbert: Epic Game, Takes Epic Support
---
There's a popular saying that goes "there is no I in team," and truer words couldn't be said about the U.S. wheelchair rugby team at the Invictus Games Orlando 2016. With the HP Pavilion packed, the team took on Denmark to fight for the gold medal on the eve of May 11, and they did it with a tight defense and an even tighter support system – including their coach.
Throughout the five days of competition, most of the wheelchair rugby team – including men and one woman, competed in other sporting events, including Swimming, Wheelchair basketball and Sitting Volleyball. Coach James Gumbert, who also coaches the U.S. national wheelchair rugby team, recalls when one competitor came in straight from the swimming event and practiced in his swimming trunks. Although tired, he asked "put me in coach." That's the drive that inspires Coach Gumbert, "If there's one thing that team has is passion."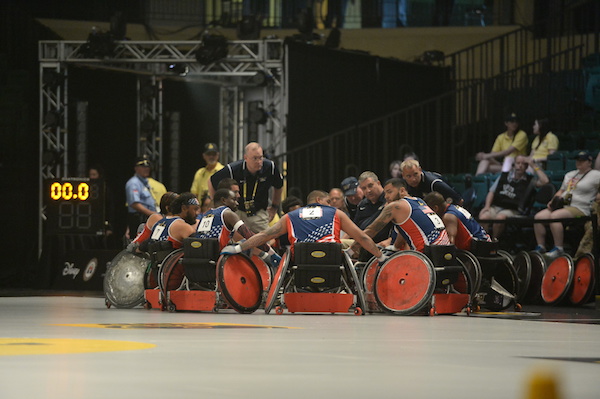 Coach Gumbert supported his team's drive and desire to immerse themselves in every sporting competition they could, because he knows first-hand the power of sports and passion for competition.
"It changes lives," he said passionately. "Adaptive sports are an avenue for people to reclaim parts of their life that they have lost."
When asked what the Invictus Games and the gold medal has meant to him, Coach Gumbert was at a loss for words, but only for a few seconds.
Reflecting on his experience at the Games he said, "I'm humbled, honored and overwhelmed. In my years in sports, both as an athlete and as a coach, I've never seen such an impact on individuals as I have this past week."
Over the next few days the excitement from the epic match may die down, but the support system and relationships built at the Games will last forever.
---