2016 Invictus Games Announces Competition Schedule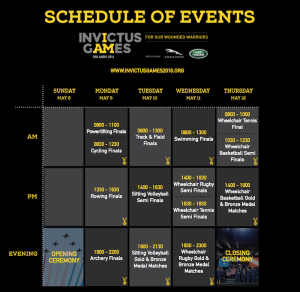 WASHINGTON, DC – The 2016 Invictus Games Organizing Committee today announced the schedule of competition for the 2016 Invictus Games presented by Jaguar Land Rover, which take place in Orlando. Nearly 30 sessions of sport will take place over eight days, with more than 500 competitors from 15 nations expected to compete.
Preliminary competition begins May 5, with the official opening ceremony taking place on May 8. The four days that follow will be jam-packed with nine different sports and an array of track and field events.
Invictus competitors will dazzle spectators in archery, cycling, indoor rowing, power lifting, sitting volleyball, swimming, track and field events, wheelchair basketball, wheelchair rugby and wheelchair tennis. Gold, silver and bronze medal matches will start on May 9 and continue all the way through to before the closing ceremony on May 12.
Retired U.S. Army Captain Will Reynolds earned four medals at the 2014 Invictus Games and is training for the 2016 Games.
"Part of what makes the Invictus Games so special is sharing the journey of recovery with friends, family, fellow competitors and fans from around the world," said Captain Reynolds. "I can't wait to join them in Orlando."
Captain Reynolds lost his leg after an improvised explosive devise detonated in Iraq. He underwent 26 surgeries as doctors tried to save his left leg but they ended up amputating his left leg at the knee. After attending the U.S. Military Academy at West Point from 1998 until 2002, Reynolds served until 2008 in Fort Benning, Georgia; South Korea; Iraq; and the Washington, D.C. area. Following his two years of rehabilitation, he earned a Masters of Business Administration and a Masters in Public Health from the University of Rochester, New York, and now works as a manager with Deloitte and lives with his wife Cassandra and children Malachi, Gabrielle, Genevieve, and Evangeline in Bethesda, Maryland.
Captain Reynolds won four bronze medals at the 2014 Invictus Games in men's classified 100-meter and 200-meter athletics sprints, the Road Race and the Time Trial in cycling.
Today's news provides fans around the world an overview of how they can be part of the action this May and cheer on Captain Reynolds and his fellow competitors.
To attend the Games, fans can pre-register for tickets by visiting https://invictusgames2016.info/tickets/.
Family, friends and fans can view the competition schedule here as they consider which tickets to purchase: https://invictusgames2016.info/invictus-games-2016-schedule.
"The Invictus Games are a testament to the courage and unconquerable spirit of the competitors, their families and their caregivers," said Ken Fisher, co-CEO of the Invictus Games. "Now that the schedule of competition has been released we are encouraging folks in the Orlando area and around the world to find their favorite event and reserve their tickets today!"
By pre-registering for tickets now, fans can guarantee they are the first to know when sales open in the weeks to come.
The 2016 Invictus Games presented by Jaguar Land Rover will take place at the ESPN Wide World of Sports Complex at the Walt Disney World Resort in Lake Buena Vista, Fla.
---