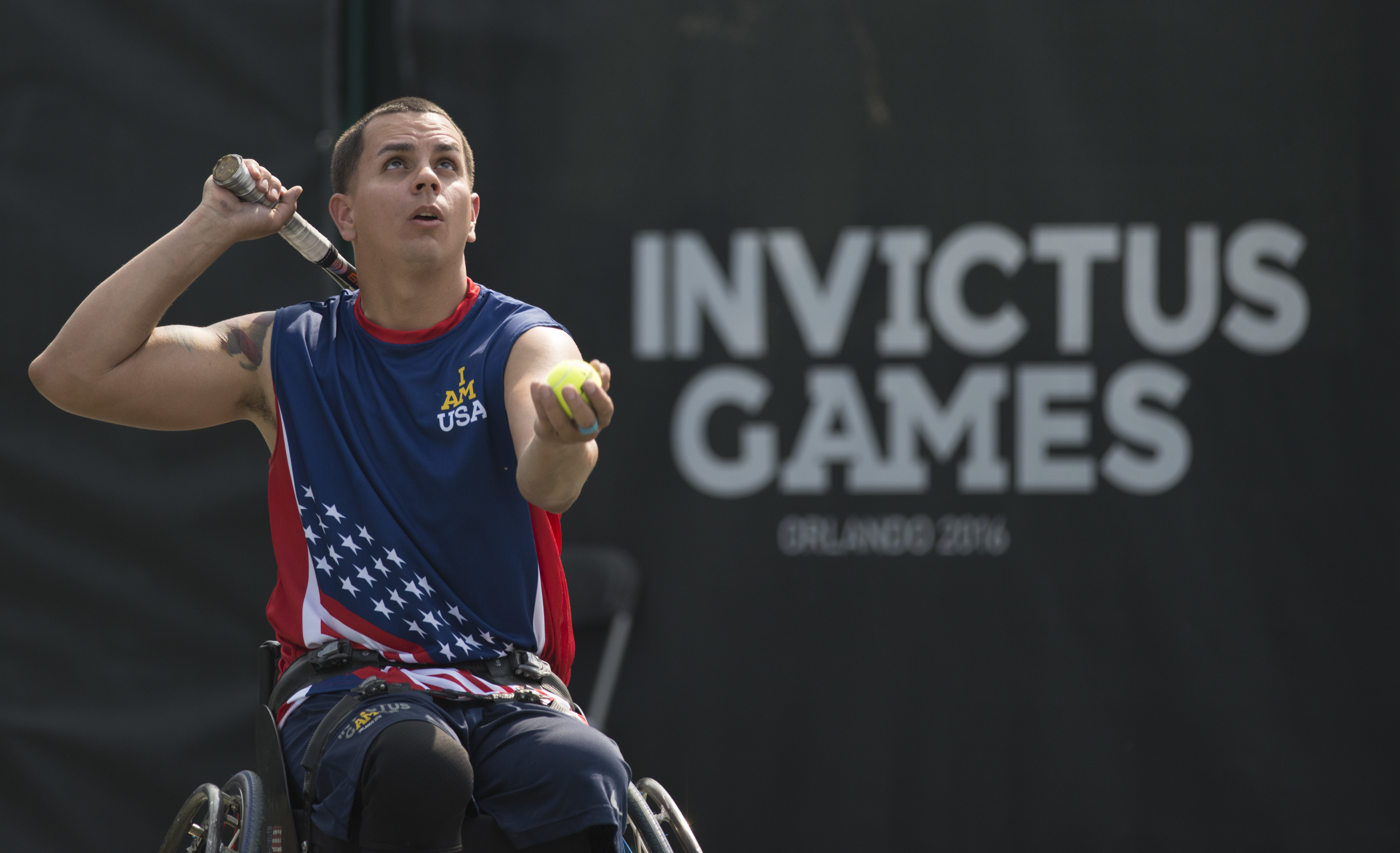 In Wheelchair Tennis Semi-finals New Zealand Ousts US – UK Defeats the Netherlands
---
Gold Medal To Be Decided Thursday Morning
May 11, 2016—Wheelchair tennis saw a few lopsided affairs in the preliminary matches, and the U.S., U.K., New Zealand and The Netherlands hoped that trend would change in the semifinals. However, as the second day of tennis action opened, the crowd saw much of the same in both matches.
The first contest saw New Zealand and the U.S. hit the court, and early on, it was all Kiwis. The U.S. only managed to win a single point in the first three games, much to the delight of the prominent New Zealand faithful in the crowd. Despite a spirited effort in game four, the New Zealand squad proved too powerful for Americans Javier Rodriguez and R.J. Anderson, winning 6-0.
Throughout the match, New Zealand flags covered the walls of the complex, and the support clearly motivated competitors Kenneth Barnes and David Sheriff. Barnes applauded the fans for their effort, and sent a message to them post-match.
"Big thanks for all the support you guys, you're all awesome!" Barnes said as he headed over toward the loyal legion of Kiwis in the crowd. "Hopefully we can bring home [the gold] for you guys."
The Kiwis hung around for the second match to see who would be joining them in the finale on Friday. The Netherlands' Rodney DeVries and Edwin Vermetten took the court to duel with Alex Krol and Andy McErlean of the United Kingdom, who seemed to have the early advantage. Despite closer play than the first semifinal, the strength of McErlean's spikes powered the U.K. to a 3-0 lead.
The Dutch fought back, though, breaking the U.K.'s serve for their first game and bringing the orange-clad supporters to their feet. The push from the crowd wouldn't be enough, however, as the U.K. controlled the pace and took the set, 6-2.
McErlean credited his experience playing on hard courts and clay surfaces for his performance, but his teammate Krol quickly recognized another key factor in the match.
"The support's been amazing," Krol said to a raucous cheer from fans flying the Union Jack. "They respect the fair play and helped us all the way, so it's been awesome."
Fans headed to ESPN's Wide World of Sports Tennis Complex on Thursday at 8am are going to be in for a treat with both matchups. The day begins with the bronze medal clash of the U.S. and The Netherlands looking for redemption, followed by the gold medal bout between New Zealand the U.K., both of which dominated play since the preliminaries.