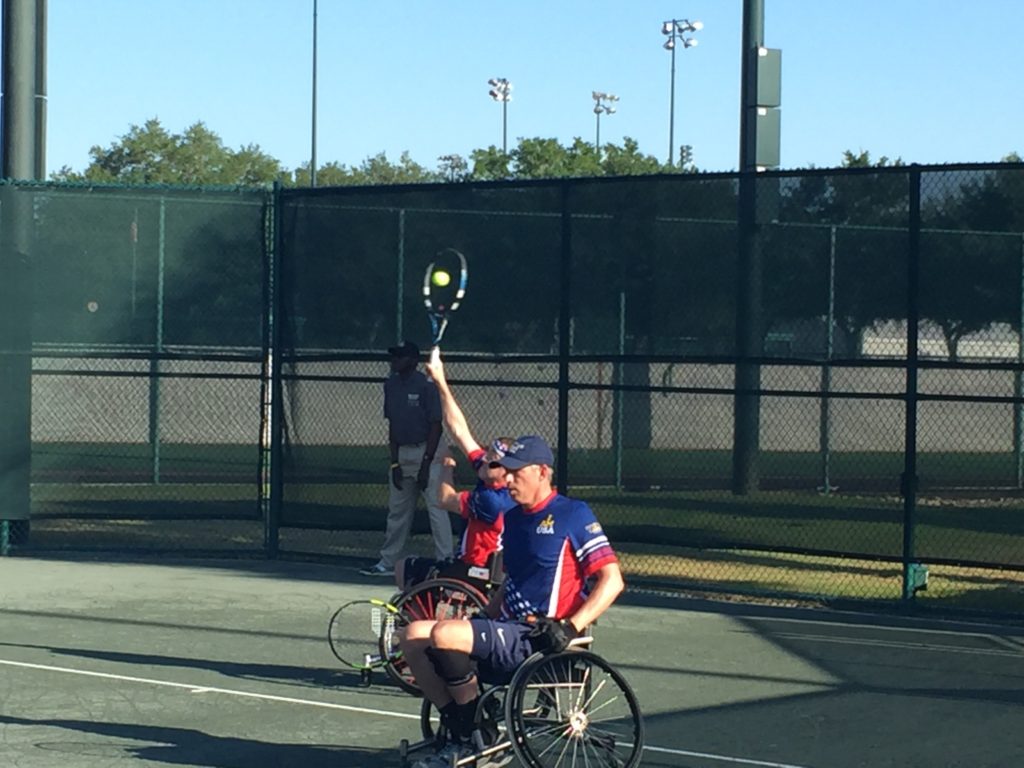 Match Report – Wheelchair Tennis – May 6, 2016
---
ESPN Wide World of Sports—Competition at the 2016 Invictus Games kicked off this morning with a thrilling elimination round of wheelchair doubles tennis on the clay courts at the ESPN Wide World of Sports Complex. 
The day's opening quarterfinal match between the U.S. team of Daniel Oosterhous and Chance Field and UK team of Alex Krol and Andy McErlean was a cliffhanger. 
After falling behind 3 games to nil Oosterhous and Field rallied behind an enthusiastic crowd chanting "USA!  USA! USA!" to come back and take a 6-5 lead. Krol and McErlean were far from done though and evened the match at 6-6 and then won the tiebreaker 7-2 to advance to the semifinals.
In the semifinals on May 11 Krol and McErlean will face the Dutch team of Rodney DeVries and Edwin Vermetten who cruised to a 6-0 victory over the Australian team of Stewart Sherman and Mark Urquart.
The day's second round of matches pitted New Zealand's Glenn Barnes and David Sherriff against the British team of Luke Sinnott and Fergus Hurst.  Barnes and Sherriff were impressive in a 6-1 victory to advance.
The last quarterfinal matchup between the U.S. team of RJ Anderson and Javier Rodriguez and Australia's Sean Lawler and Chris McLeod was another thriller.
Tied at three games a piece Anderson's teammate in wheelchair tennis and wheelchair basketball, Rodriguez, told his fellow soldier to trust his serve. 
"My teammate said I believe in you, you've got a good serve–trust it," said Anderson.  The U.S. team did not lose another game en route to a 6-3 victory and birth in the semifinals.
Finals of wheelchair tennis will be held on the 12th of May.  Limited tickets remain.
---