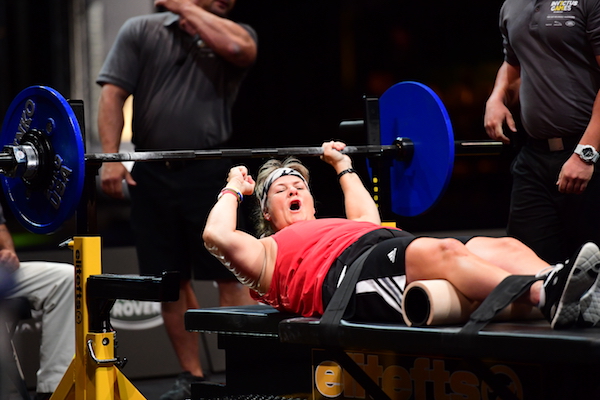 (Photo by Phil Ellsworth / ESPN Images)
Final Match Report:  Women's Powerlifting
The Power of Sports…
---
Saved the Life of Gold Medalist, Christine Gauthier
When President George W. Bush, Honorary Chairman of Invictus Games, presented Canada's Christine Gauthier with her country's first gold medal today, the President told her she is very strong.
The winner of the women's heavyweight powerlifting division later said that it is sport that makes her feel strong. Participating in adaptive sports helped Gauthier adjust to life following serious injuries suffered in an Army obstacle training exercise.
Reflecting on her gold medal moment with the President Bush Gauthier said "[sports] literally saved my life," as she sat in her wheelchair beside her loyal Labernese pet dog Batak.
Elaborating further, Canada's first gold medalist of the Invictus Games Orlando 2016, shared that sport helped her combat suicide urges following her injuries.
"And sport continues to do so because it's still a struggle, but I feel so happy when I'm competing in sport."
---
Helping to Make a Connection for Nerys Peace
UK silver heavyweight powerlifting medalist Nerys Peace also had an inspiring story to share about the power of sports in her life. Her journey to the final had been a long one that started well before the recent Invictus trials.
"Sport rescued me. It helped me to get out of my home and do something. It helped me to lead a more independent life."
Peace is participating in a total of six events at the Invictus Games including track and field, swimming, rowing, and wheelchair basketball.
"Sports moved me forward further and faster than anything else. There's something magical about sport that inspires you to try harder."
---
Giving a Sense of Purpose to Laura Knowles
UK Invictus Games powerlifter, Laura Knowles, celebrated her 25th birthday yesterday by qualifying for today's final of the women's heavyweight powerlifting.
"Sport gives me a sense of purpose and empowerment. I get told all the time that I can't do stuff, but you come along to the Invictus Games, and prove you can."
Laura didn't medal but shared her perspective on what it means to participate in the Invictus Games.
"I was a big kid growing up and could barely run before I joined the Army. I learned to hold my own against the lads in the gym, but it's so much better competing with the women."
---